Nurturing Future Talent: The Cherokee Summer Internship Program
Summer has drawn to a close, and students are back in the classroom. However, at the Cherokee Office of Economic Development (COED), we're already looking ahead to next year, eagerly preparing for our sixth annual High School Student Summer Intern program.
COED's Cherokee Summer Internship Program is an initiative born out of the collective efforts of the Cherokee Workforce Collaborative.  The program offers valuable opportunities to rising high school juniors and seniors, as well as recent high school graduates, allowing them to gain paid, real-world experience. In the previous year, we received applications from over 60 CCSD students who sought to participate in the 2023 Summer Internship Program.  While not all these students were able to be matched, many of them had the chance to engage in one-on-one mentorship opportunities provided by 10  different local companies in their community.
As students immerse themselves in these real-world opportunities, they not only gain practical skills but also begin to envision their lives beyond high school. "This internship has really helped me get adapted to what an office environment looks like for people who have these kinds of jobs. It's helped me see what the benefits and downsides are," said Yael Reyes-Cortes, an intern at MEYN America this past summer.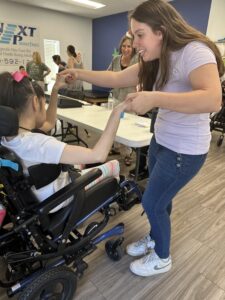 While gaining insights into the world of work, high school interns are not just observers; they are actively involved in crucial business operations. For instance, Cade Smith, who served as an electrical trainee at Universal Alloy Corporation (UAC) during Summer 2023, had a hands-on experience that allowed him to contribute significantly to the company's operations. Smith explained, "At UAC, I helped organize files and schematics that have to do with the equipment in the plant. I also got to go out in the plant and see the different processes of industry and how our controls engineers and maintenance professionals work on the equipment to ensure that it's running in the most efficient way possible."
The Cherokee Summer Internship Program goes beyond passive observation, as exemplified by Yael and Cade's experience. It also caters to students' diverse passions and aspirations. When applying, students list their varying fields of interest spanning from welding, computer science, graphic design, film, accounting and more. The program then matches students with relevant paid positions.
Working in these real-world environments helps students solidify their interests. Scarlett Thomas interned at Next Step Ministries this past summer and plans to continue that path. "This internship has prepared me for my future by certifying the fact that I want to be an occupational therapist," said Thomas. "I've had so much fun, and it's been such a blessing to work with Next Step Ministries."
The program not only helps students explore their interests but also equips them with valuable future workforce skills. Even if their experience doesn't immediately lead to a lifelong career path, students like Kiernan Lamp, a 2023 intern, do notice their skill development.  Kiernan shared, "Originally, I wanted to go into the electrician side of this internship, but I was fortunately put into IT where I've actually had a great time. I've been able to work with my coworkers in fields I've never touched on before, this was really an enlightening experience. I got to do things that I've never done, learned a lot and got a bunch of new skills that I never would have thought I would use, but now I can apply them into other areas of my life."
As we look ahead to next summer, students who are interested in interning for local businesses this upcoming Summer 2024 can apply now. COED also invites Cherokee County businesses to apply now to host local interns for Summer 2024. We want as many companies as possible to tap into future talent, invest in the community and learn from a Generation Z perspective.
"Involvement in the Cherokee Summer Internship Program has helped UAC hire and retain top local talent," said UAC HR Administrator Amy Leatherman. "As a fifth-year veteran of the program, we encourage other area employers to get involved and take a chance on these bright young students."
Applications for the 2024 program will not be accepted after May 15, 2024. To learn more about the Summer Intern Program, visit https://cherokeega.org/internship.