Go All Access with New "Filmed In Cherokee" App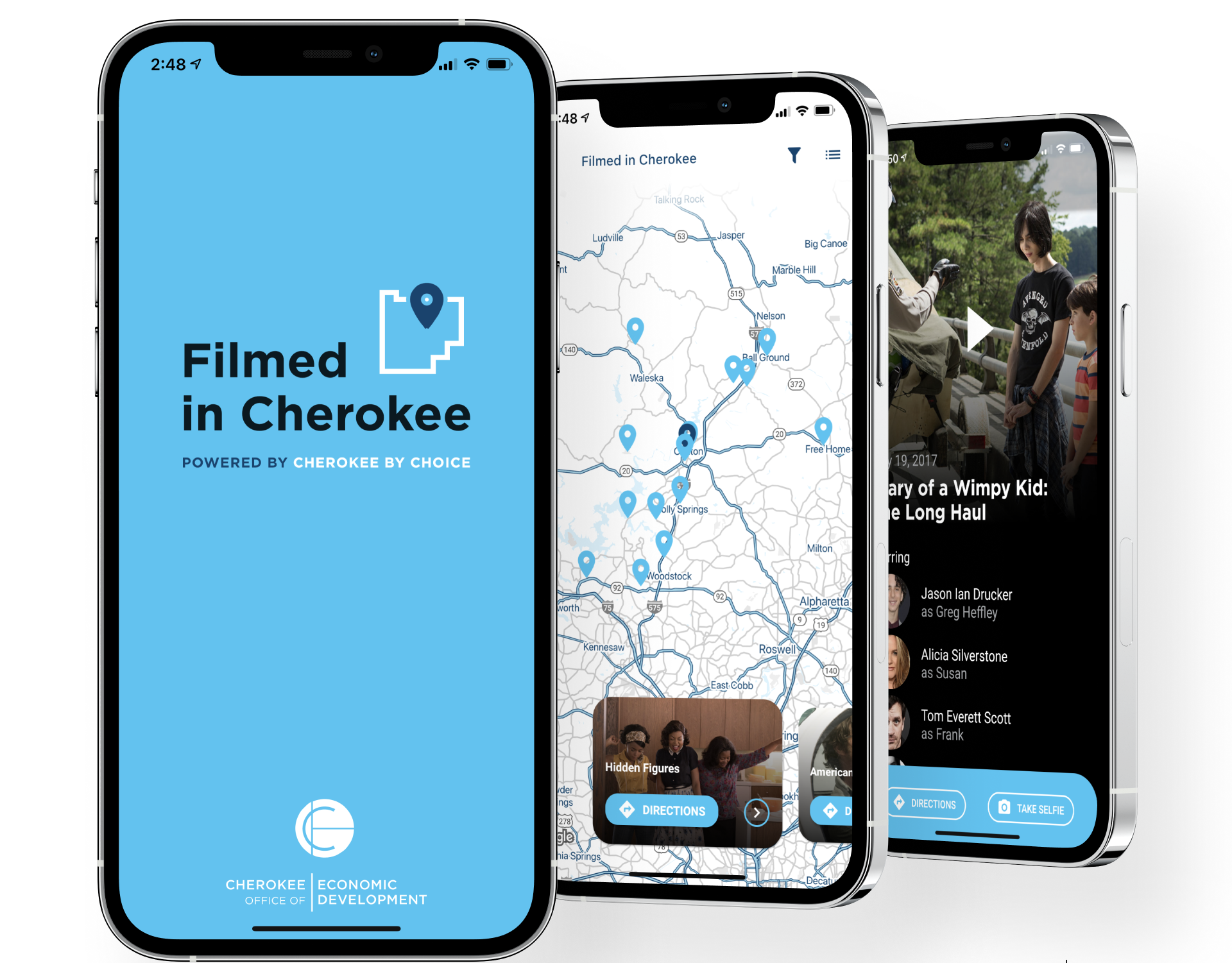 The Cherokee Office of Economic Development (COED) launched a free "Filmed in Cherokee" mobile app, offering an interactive experience that takes users on a behind-the-scenes tour of fan-favorite film locations.
"Georgia has quickly become one of the top film locations in the world, and when film enthusiasts come to explore Georgia by visiting their favorite sites from television and movies, they also increase tourism dollars in our communities," said Lee Thomas, Deputy Commissioner of Film, Music and Digital Entertainment. "We appreciate the Cherokee Office of Economic Development for their work on this innovative 'Filmed in Cherokee' App. Combining film locations with nearby business establishments will not only accommodate fans, but spur interest in local small businesses and help the economy."
Developed in partnership with Woodstock-based digital product design and development agency Black Airplane, the "Filmed in Cherokee" App features on-set photos, insider stories, and fun facts on why each film location was selected.
"The 'Filmed in Cherokee' App is the perfect day trip for local film enthusiasts who want to explore Cherokee's most recognizable tv and silver screen locations," said COED President Misti Martin. "Whether you dine at the Ball Ground Burger Bus like Disney+'s Timmy Failure or want to take in the views at Ozark's Blue Cat Lodge on beautiful Lake Allatoona, there is a location for the whole family to enjoy."
Once downloaded, users can learn about each film's storyline through bonus, behind-the-scenes content, discover tips for connecting with Cherokee's film community, and snap a selfie while visiting the locations of these fan-favorite movie and tv productions:
American Made
Billy Lynn's Long Halftime Walk
Champion
Diary of a Wimpy Kid: The Long Haul
Doctor Sleep
Dolly Parton's Heartstrings
Hidden Figures
MacGyver
Noelle
Ozark
Timmy Failure: Mistakes Were Made
The Founder
The Outsider
The Resident
"The 'Filmed in Cherokee' App is your all-access pass to Cherokee's film locations," said COED Film Project Manager Molly Mercer. "Film buffs both young and old can discover behind-the-scenes stories, including Tom Cruise's friendship with a local restauranteur (American Made); Jason Bateman's love of baseball (The Outsider); and Timothy Busfield's encouraging pep talk to local high school film students (Dolly Parton's Heartstrings)."
To boost film tourism and community pride, the custom-built app includes an interactive map that allows users to navigate from one location to another while discovering local areas of interest.
"Film tourism opens a community to visitors in a uniquely inspiring way," said City of Woodstock Marketing and Communications Manager Stacy Brown. "The stories and characters of Cherokee's films allow visitors to connect to these places in a way that's meaningful to them.  Visitors should plan to make a weekend of it; stay overnight, enjoy one-of-a-kind shopping and dining, explore outdoor pursuits, and even take in a local brewery along the way."
The "Filmed in Cherokee" App is available to download for free on Google Play or through the Apple App Store. For more information on filming in Cherokee, visit COED's film page.