Film & Media
The Cherokee Office of Economic Development (COED), in partnership with the Cherokee County School District's (CCSD) Audio/Video Technology and Film (AVTF) educators, recently announced the winners of the 5th annual Cherokee Student Film Festival as part of a live screening and awards presentation held on April 28, 2023.
Student films were screened on the Jumbotron as over 200 audience members cheered on a record 25 groups of student filmmakers from across the county. Watch the winning videos here. Here are the winners!
COMPLETE LIST OF 2023 CHEROKEE STUDENT FILM FESTIVAL WINNERS

I'm not a Psychopath (Winner: Best of Show, Best Use of Prop, Best Cinematography, Best Sound Quality, Best Use of Line & Audience Choice Award)
Sequoyah High School
Created by: Ava Roberts, Lauren Turnage, Noah Popp & Justin Clark
The First Day of Spring (Winner: Runner Up Best of Show & Best Use of Line)
Creekview High School
Created by: Chloe Feibus, Jackson Estapa & Logan Carr
Bound (Winner: 3rd Place Best of Show)
Etowah High School
Created by: Marissa Migneco, Sophia Berry & Kaili Phillips
Growing Older (Winner: Audience Choice Award)
Sequoyah High School
Created by: Aidan Murphy & Kayla Murphy
The Movie (Winner: Audience Choice Award)
Cherokee High School
Created by: Hunter Tadin, Hunter Schwartz, Mackenzie Glover & Daniel Reilly
Go All Access with New "Filmed In Cherokee" App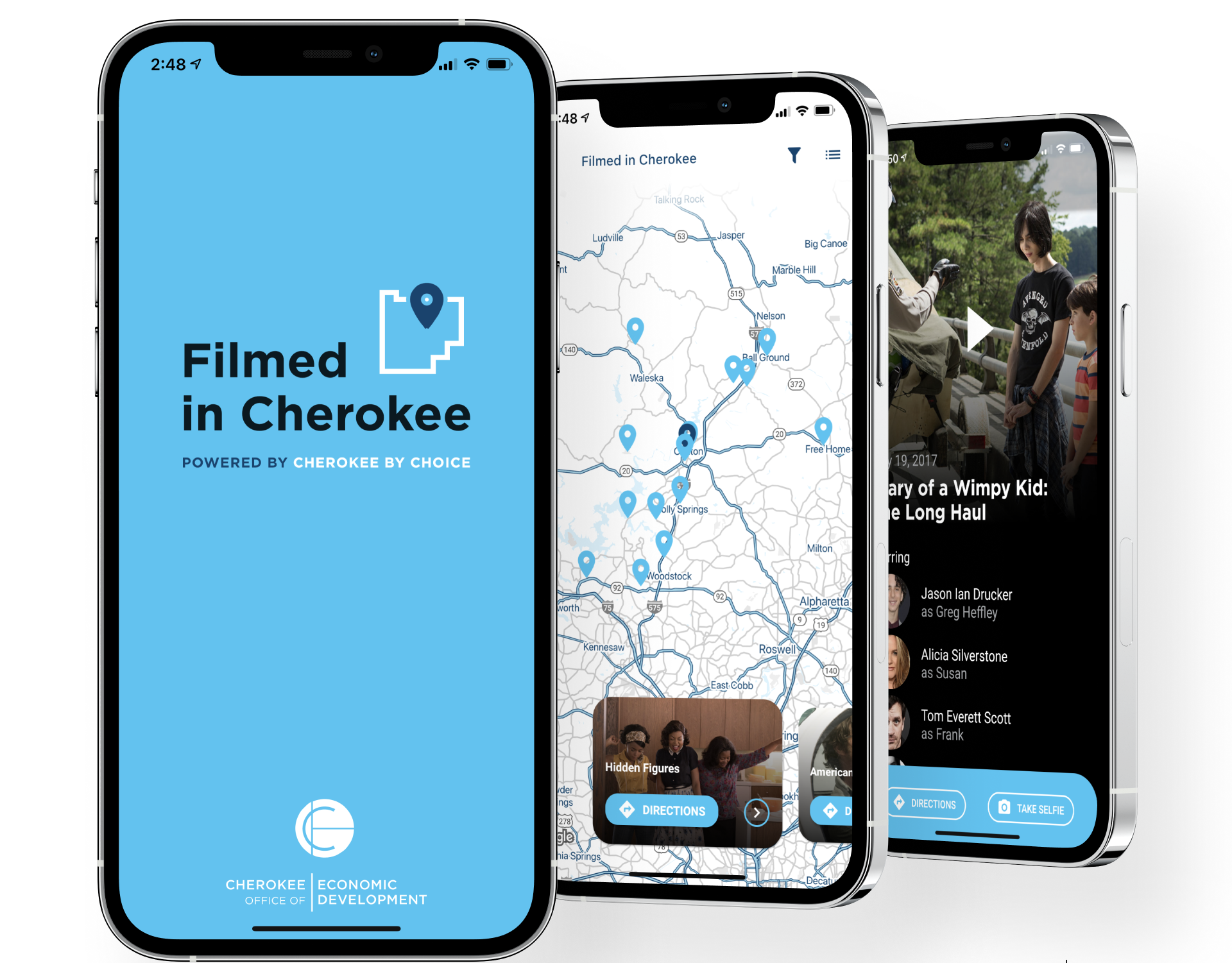 The "Filmed in Cherokee" Mobile App offers an interactive experience that takes users on a behind-the-scenes tour of fan-favorite film locations. Developed in partnership with Woodstock-based digital product design and development agency Black Airplane, the Filmed in Cherokee App features on-set photos, insider stories, and fun facts on why each film location was selected.
Once downloaded, users can learn about each film's storyline through bonus, behind-the-scenes content, discover tips for connecting with Cherokee's film community, and snap a selfie while visiting the locations of these fan-favorite movie and tv productions:
American Made
Billy Lynn's Long Halftime Walk
Champion
Diary of a Wimpy Kid: The Long Haul
Doctor Sleep
Dolly Parton's Heartstrings
Hidden Figures
MacGyver
Noelle
Ozark
Timmy Failure: Mistakes Were Made
The Founder
The Outsider
The Resident
The "Filmed in Cherokee" App is available to download for free on Google Play or through the Apple App Store.
Scenes from the Cherokee Film Summit
More than 11,700 workers in Cherokee County are employed in the film and media industry

Georgia offers free scouting assistance for films, videos, and movies

Over 75 films, television series, and video projects have been filmed in Cherokee County

Georgia's film tax incentive can reduce production expenditures by up to 30%

88 film and media establishments are located in Cherokee County

There are more than 1000 production suppliers and support vendors in Georgia's deep crew base

Cherokee County is a Camera Ready Community
Producers & Investors
Creative by design. Collaborative by nature. Cherokee by Choice.
Not only do Cherokee's stunning vistas and eclectic cities make excellent locations for your next film project (as they did for 27 in 2017 alone), but they provide a great place for your creative team to live, work and play. Just ask any one of our incredible industries, like adidas or YANMAR, who found Cherokee's sustainability, greenspace, infrastructure, and proximity to Atlanta to be wins on their checklist of must-haves. Whether it's a post-production suite, animation studio, sound stage, or a writer's room you have in mind, Cherokee's visionary and collaborative approach to economic development makes it the ideal place to take your project from dream to reality. Cherokee is the choice.
Sector Support
Georgia offers a tax incentive of up to 30 percent of production expenditures occurring in the state.
Close proximity to Atlanta Hartsfield Jackson International Airport, which offers direct flights to over 150 domestic and 70 international destinations
Cherokee County Airport is able to accommodate private jets.
Georgia has one of the deepest, most affordable and experienced crew bases in the country with more than 1,000 production suppliers and support vendors.
Much of Cherokee County is within the 30-mile radius "bubble" emanating from the State Capitol
More than 11,700 workers in the Cherokee County Market Area are employed in the Film and Media Industry
The Film and Media Industry is projected to grow by 9.5 percent between 2017 and 2022 in the Cherokee County Market Area.
Cherokee is a great place to live, work and play
Educated Workforce
Making sure that our current and developing workforce are camera ready.
42 percent of residents in Cherokee County hold an Associates degree or higher and 24 percent of residents hold a bachelor's degree or higher.
Chattahoochee Technical College offers degrees, diplomas and technical certificates in design and media production technology and television production technology, Reinhardt University offers a Bachelor of Arts in Digital Film and Video, and Kennesaw State University offers a minor in Film Studies, with an emphasis on screenwriting
All 6 high schools in Cherokee County have broadcast media production classes.
Location Managers and Scouts
Choosing Cherokee's experienced Camera Ready Community means you can expect:
Complimentary assistance with locations and scouting
Cherokee's accommodating and fluid permitting process
Coordination with Off Duty Police, EMS, Traffic Control, Fire or other safety personnel
Assistance in locating basecamp options, dining facilities, or other production related needs
For assistance, please contact Molly Mercer Camera Ready Liaison · 770-345-0600 (Office) · 770-378-6945 (Mobile) · mmercer@cherokeega.org
Ozark was filmed at multiple locations throughout Cherokee, including Canton, Woodstock, Holly Springs, and on beautiful Lake Allatoona.
"Cherokee has been a fantastic place for us to work. We've been well-assisted with permitting, and the local law enforcement understands our needs. When we returned for Season 2, they didn't miss a beat. It was seamless."

Wes Hagan, Supervising Locations Manager, Ozark (Netflix TV Series, Season 2)
Production Managers
In Cherokee County, you will find a myriad of film professionals to complement your team, and a host of available restaurants, services, and businesses ready to assist with your particular needs.
Live in Cherokee and want to get in on the action? Get linked up below!
List Your Property for Film
The Georgia Film Office has provided a way for all Georgia property owners to list their home or property to be considered as a filming location. Follow these instructions, or contact our office directly to list your property! Molly Mercer · 770-345-0600 · mmercer@cherokeega.org
Coursework and Workshops
Film Crew Experience?
List your professional on-set experience and availability with the Georgia Reel Crew.
Cherokee County In the Movies
Take a look at just a few of Cherokee's most recent silver screen appearances!