Planting Sustainability Seeds for Success
How Cherokee is Embracing Sustainability
It's World Planting Day! Today is a day to plant trees, but long before today Cherokee County has been planting sustainability seeds for its future.
The Cherokee Office of Economic Development (COED) and Cherokee County as a whole believe that investing in sustainability and taking care of our environment is one of the best ways to ensure a brighter future.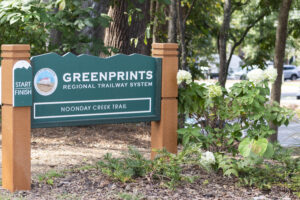 Cherokee boasts beautiful landscapes and natural resources – Lake Allatoona, extensive trail systems, the Etowah River, forests and more. To protect these assets, many programs and initiatives have been created within Cherokee County.
COED itself is committed to sustainability. The Work In Cherokee campaign aims to not only reduce residents' commute times but encourage them to Forget the Commute and reduce their carbon emissions.
COED offers a Cherokee Job Search Portal on their website, where Cherokee residents can find local jobs and forget their long commutes. Less driving means less emissions!
Beyond COED, the county and its cities are working towards sustainability goals as well.
Cherokee County has received a silver certification through the Green Communities Program from the Atlanta Regional Commission (ARC).
The City of Ball Ground hosts many sustainability and recycling events each year. The Ball Ground Creek Annual Clean-Up was held on Oct. 14.
Each year, the Cherokee County Water and Sewerage Authority (CCWSA) hosts a clean-up of Ball Ground Creek, which runs through the heart of the city. Volunteers meet at city hall and spend the day cleaning up trash along the creek.
This is one of several clean-up events CCWSA facilitates. This fall, CCWSA gathered volunteers for an Allatoona Lake Cleanup on Sep. 30, a Little River Cleanup on Oct. 21 and an Etowah River Cleanup on Oct. 14. Learn more about their cleanup events here.
The City of Canton hosted a Peace + Love + Recycle event on Oct. 14 as well. This event took place at the City of Canton Public Works facility. Canton encouraged city residents to recycle old electronics, tires and paint, as well as offering unlimited paper shredding.
However, this event was just the beginning of Canton's sustainability journey. On Sep. 29, the City of Canton announced the launch of its Sustainability and Historic Preservation Project – which aims to reduce city energy and operations costs by 28% for the next twenty years, saving a total of $2 million.
Working with Schneider Electric, Canton developed this strategic sustainability and historic preservation program tailored to the city's Roadmap for Success, focusing on the Sustaining Our Natural Environment tenet.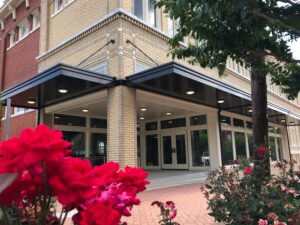 One the program's major goals is to achieve city certification from the ARC Green Communities Program. Canton believes that sustainability and historic preservation go hand-in-hand and plans to ensure that buildings continue to work towards sustainability while maintaining the historic integrity of Downtown Canton.
One such development is the newly renovated Jones Building. The historic mercantile building is set to re-open its doors to downtown Canton as a mixed-use facility with retail and office space, as well as a restaurant on the ground floor – all while maintaining the history and character of the building.
The savings generated under this program will contribute to the City's investment in the program, and in turn increase the efficiency of taxpayer dollars – fostering more efficient operations, bolstering financial stability and driving progress in strategic sustainability.
Read the full press release here.
The City of Woodstock has achieved the title of an ARC Certified Green Community; Woodstock was first certified in 2010 at a bronze level, earning gold in 2015. This ARC program assists local governments with implementing measures that will reduce their environmental footprint, not only within government buildings but throughout the entire city.
At a local level, Woodstock's division of Planning, Design and Sustainability in the Community Development Department is charged with monitoring energy usage in the city and developing initiatives, programs and incentives to promote sustainability within the community.
With their guidance, the city has since implemented the 2020 Woodstock Sustainability Plan. This plan outlines the importance of sustainability, reiterating its impact on all aspects of life and business. The plan sets 20 sustainability goals for the City of Woodstock. Read the full plan here.
Woodstock will also host its annual Tis the Season to be Green, Recycling and Paper Shredding Event on Nov. 18 from 9 a.m. to 1 p.m. Learn more here.
The City of Waleska is also committed to sustainability. Designing with the Environment, and Promoting Sustainable Growth and Infrastructure are two of Waleska's six Core Issues outlined in its Comprehensive Plan. This includes ensuring that natural resources are protected, green space is abundant throughout the city and vehicular transportation is minimized.
Policies dictated in the plan include proactively preserving rural resources and adopting practices that create environmentally responsible and sensitive design, development and construction. Read the plan here.
Learn more about what Cherokee is doing to work towards sustainability on our website: https://cherokeega.org/new-business/community-sustainability-initiatives/.