Cherokee County: A Great Place For A Fresh Start
How Fresh Start Cherokee is Helping Local Entrepreneurs
For almost 200 years, Cherokee County has been home to the builders, the dreamers and the entrepreneurs. Dubbed the "192-year-old Startup Community," Cherokee has possessed a strong entrepreneurial spirit since the start.
As such, National Entrepreneurship Month in November is engrained in Cherokee's culture. But the county doesn't just champion its entrepreneurs for the month; the Fresh Start Cherokee initiative supports and celebrates entrepreneurship year-round.
Born from the Cherokee Office of Economic Development (COED), the Fresh Start Cherokee initiative is designed to create and enhance a culture of entrepreneurship in Cherokee. With the motto "Dig. Grind. Hatch." in mind, Fresh Start Cherokee connects local entrepreneurs to resources, education and mentorship to foster their growth.
The initiative offers free programs for startups, such as Fresh Start Mornings and the North Atlanta Venture Mentoring Service (NAV). The Circuit, managed by COED, is also a valuable tool for growing entrepreneurs.
The Circuit is Cherokee's first co-working space, opened in 2017. A partnership between Chattahoochee Technical College (CTC), COED and the Woodstock Office of Economic Development, the space doubles as the CTC Woodstock student center, but is open to co-workers, startups and the public alike.
"Once I started working in the Circuit, I met clients more often in person. Then, I was meeting new people and being introduced to other entrepreneurs," said Circuit member Victoria Stanton. "It's been really helpful in growing my local presence."
A two-minute walk from downtown Woodstock, the Circuit is a 3000+ square foot facility in the historic Woodstock Elementary Gym. Inside you'll find the Circle of Friends coffee shop, Wi-Fi, desk space, a network of mentors and a host of events. While the workspace is open to the public, membership is required to gain full access to the conference room, phone booths and the ability to receive mail onsite. Learn more about membership at circuitwoodstock.com.
Fresh Start Mornings is a free program curated by COED. It gives local entrepreneurs the opportunity to network with each other, present their venture for live feedback and hear presentations on educational topics tailored for startups.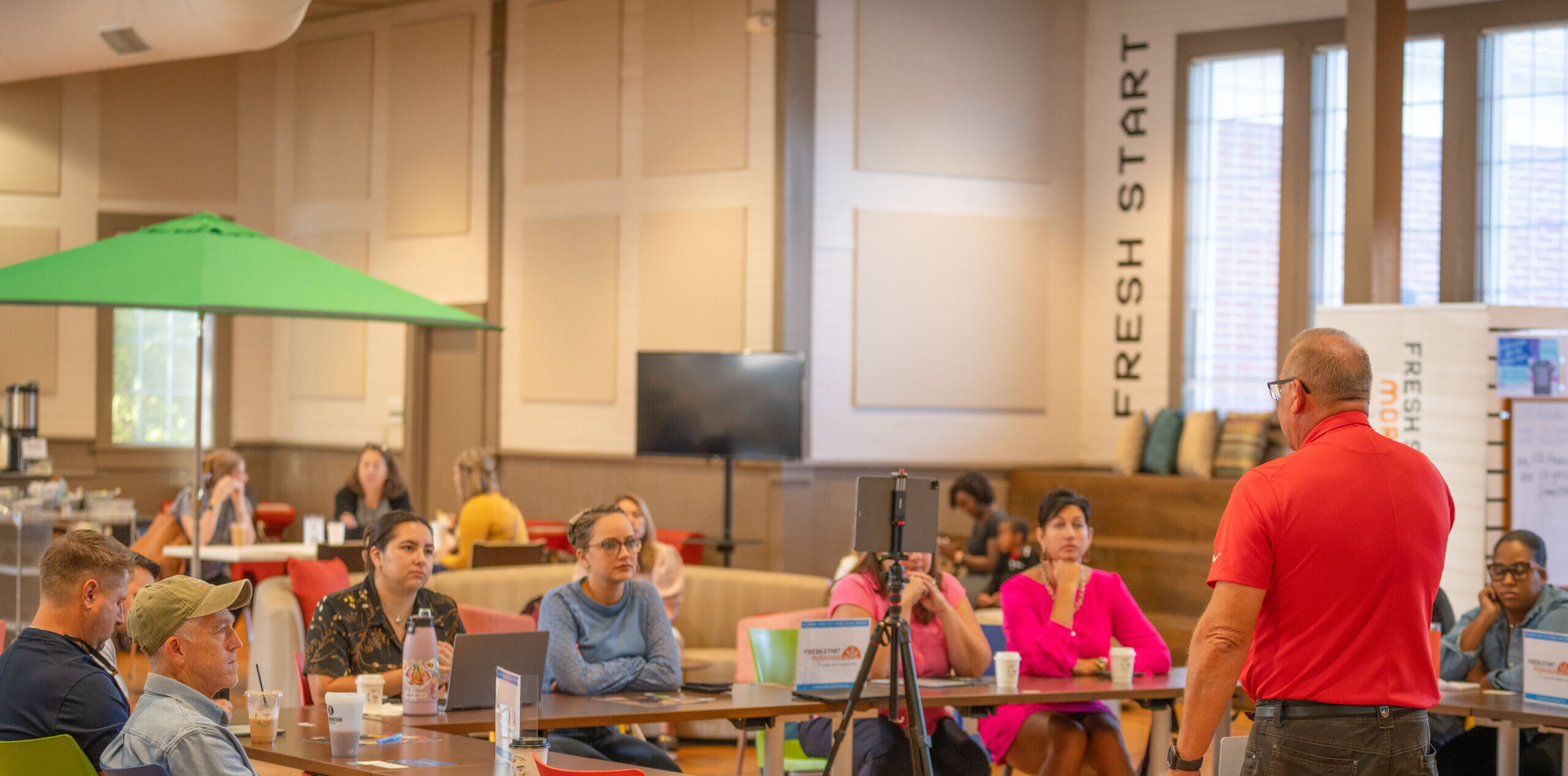 "Fresh Start Mornings gives me the opportunity to engage with and learn from my peers," said Chris Beck, co-owner of Eden Smoothies. "It's the community every small business owner needs – people who have been there and can share stories, problems and solutions."
Fresh Start Mornings meets the first and third Wednesday of the month at 9 a.m. Learn more at freshstartmorningscherokee.com.
NAV offers direct mentoring for startups. NAV represents Georgia's first entrepreneur mentorship program principled and trained by the Massachusetts Institute of Technology's Venture Mentoring Service. This unique program gives entrepreneurs guidance to success through the power of team-based mentoring.
The pilot program was launched in 2019 with 20 mentors and three ventures Today, the program boasts 27 mentors and 13 ventures.
"We want to grow Cherokee entrepreneurs but don't want to limit our reach to the county borders," said COED President & CEO Misti Martin. "For us, the goal is much bigger than building successful companies; it's about fostering stronger entrepreneurs," said Martin.
Ventures are made stronger by those who invest in their success, like NAV Mentor and Woodstock Mayor Michael Caldwell.
"There's no better way for seasoned entrepreneurs to give back than to work with up-and-coming ventures," said Caldwell. "The NAV program provides such a unique way to give our ventures multiple perspectives on specific problems and empower them to scale."
If you have a scalable business in the North Atlanta region and you're looking for a mentor team, or if you are an experienced entrepreneur looking to give back, visit northatlantavms.com to learn more and apply.
Visit COED's website, cherokeega.org, to learn more about the Fresh Start Cherokee initiative and to stay in the know about future programs to come. Follow the Fresh Start Cherokee initiative on Facebook, Instagram and LinkedIn for updates about Cherokee's entrepreneurial ecosystem and help us build a start-up community close to home.